Greetings,
Equities: Let's begin with the options market where the speculative fervor is on full display. Speculative demand for call options (mostly deep out-of-the-money contracts) has been staggering (2 charts).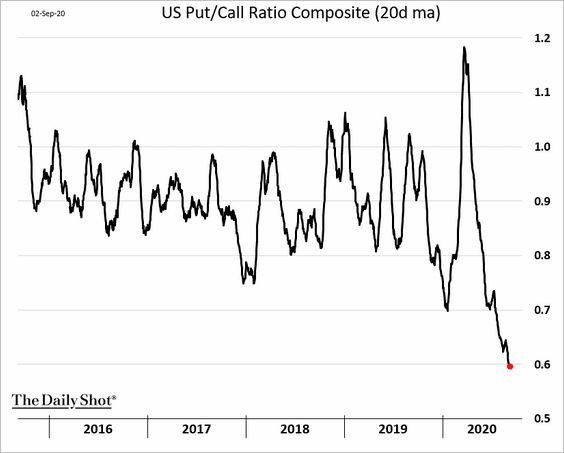 Short-term call options are notoriously difficult to hedge, and dealers who sold them rapidly become short the market as shares rise (and the probability that these options will get exercised increases). Dealers are forced to buy stocks to cover their exposure (delta-hedging), pushing the market higher. That, in turn, makes the dealers short again, creating a melt-up.

Credit: Banks' credit outperformance doesn't match their weakness in the equity markets.
Rates: Foreigners bought US liquid assets this year.
United States:  Growth in factory orders was solid in July.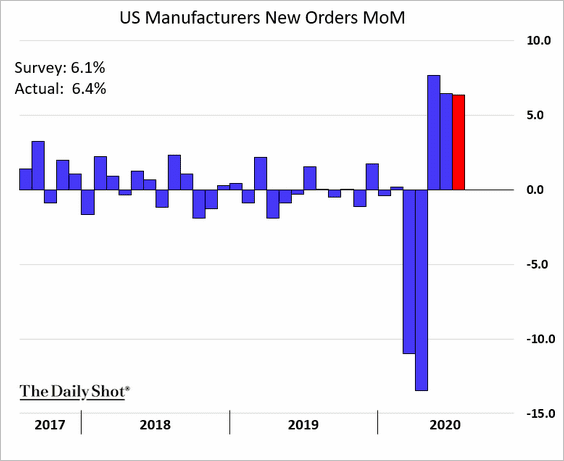 Global Developments: The number of advanced economies with rising COVID cases is on the decline.

Food For Thought: How long does it take to sell a house, by metro area: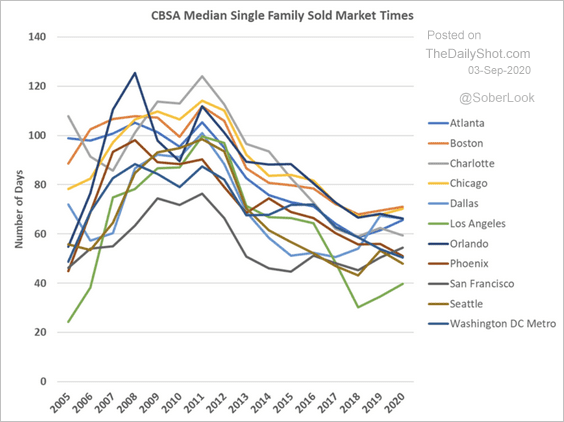 ---
Edited by Daniel Moskovits
Contact the Daily Shot Editor: Editor@DailyShotLetter.com
Dear Friends,
The full-length Daily Shot® is now an independent ad-free publication (see TheDailyShot.com). Here is a sample newsletter.
Daily Shot Brief subscribers are eligible to receive the full-length Daily Shot for $115/year (a $20 discount). To subscribe, please register here and use the coupon number DSB329075 (please click the "apply" button for the discount to take effect). A monthly subscription is also available (here).
The Food for Thought section is available as a separate newsletter. You can sign up here.
Please note that The Daily Shot is not an investment newsletter and is not intended for broad distribution.
If you have any questions, please contact Lev.Borodovsky@TheDailyShot.com.
Sincerely,
Lev Borodovsky
Editor, The Daily Shot