Greetings,
Equities: The market is behaving as if the coronavirus problem is all but gone. The assumption is that the vaccine will be available soon, will be effective, and most people will be inoculated. There is, however, a substantial risk associated with each of these assumptions.
• Vaccine timing remains uncertain.

• COVID vaccine effectiveness and the immune response longevity are unknown at this point.
Credit: Corporate loan balances at US banks continue to shrink as companies pay down their drawn credit lines.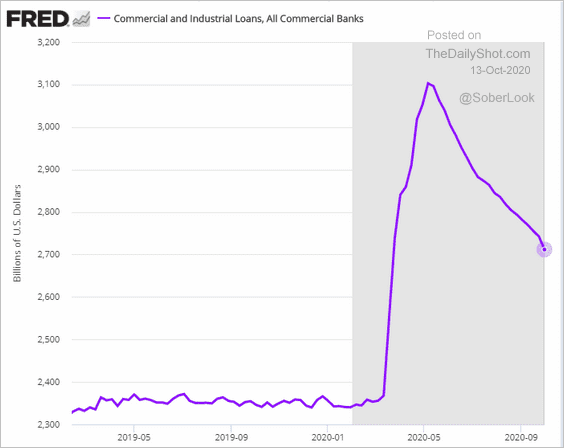 Energy: OECD oil demand peaked some 15 years ago and is expected to keep falling.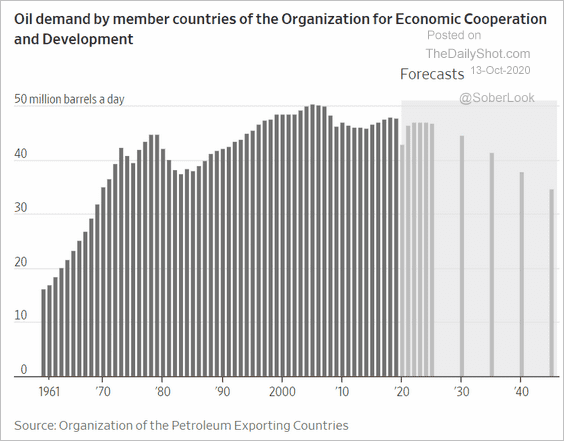 Eurozone: Here is the distribution of Italy's trade with the US.
United States: A weaker US dollar and the stock market rally have significantly eased US financial conditions.
Food For Thought: Support for Obamacare:
---
Edited by Devon Lall
Contact the Daily Shot Editor: Editor@DailyShotLetter.com
---
Dear Friends,
The full-length Daily Shot® is now an independent ad-free publication (see TheDailyShot.com). Here is a sample newsletter.
Daily Shot Brief subscribers are eligible to receive the full-length Daily Shot for $115/year (a $20 discount).
To subscribe with this discount, you must register here (NOTE: The regular subscription page will not acknowledge this coupon).  The coupon number is DSB329075 (please click the "apply" button for the discount to take effect).
A monthly subscription is also available (here).
The Food for Thought section is available as a separate newsletter. You can sign up here.
Please note that The Daily Shot is not an investment newsletter and is not intended for broad distribution.
If you have any questions, please contact Lev.Borodovsky@TheDailyShot.com.
Sincerely,
Lev Borodovsky
Editor, The Daily Shot
---