Greetings,
Administrative Update: Please note that The Daily Shot will not be published from Thursday, December 24 through Friday, January 1. However, in keeping with our annual tradition, we will send out a special edition of Food for Thought next week. As a reminder, scheduling updates are available online at https://thedailyshot.com/administrative-updates/
United States: The Conference Board's consumer confidence index is back near pandemic lows this month.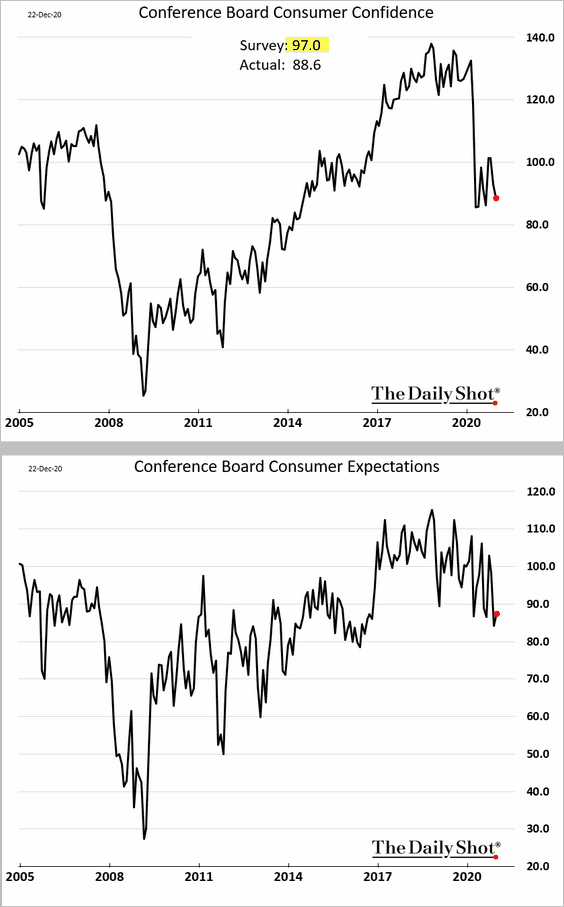 Some economists expect the vaccine progress and the new stimulus bill to boost sentiment next month – assuming the relief package is not delayed.

Canada: Consumers remain in good spirits during this holiday season.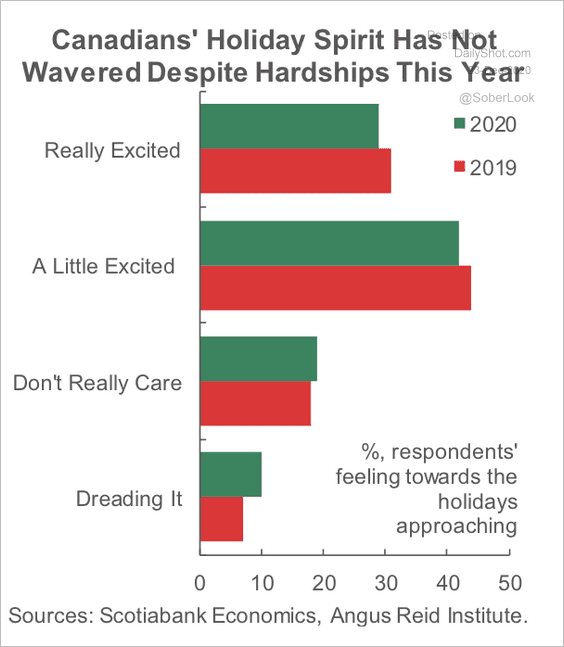 Emerging Markets: Fund flows to EM stocks have been weak this year.
Equities: The most shorted stocks in the Russell 3000 (broad) index continue to widen their outperformance vs. the S&P 500, punishing short-sellers.
Rates: Large tech companies own a considerable amount of Treasuries.
Food For Thought: Cancelling travel plans:
---
Edited by Devon Lall
Contact the Daily Shot Editor: Editor@DailyShotLetter.com
---
Dear Friends,
The full-length Daily Shot® is now an independent ad-free publication (see TheDailyShot.com). Here is a sample newsletter.
Daily Shot Brief subscribers are eligible to receive the full-length Daily Shot for $115/year (a $20 discount).
To subscribe with this discount, you must register here (NOTE: The regular subscription page will not acknowledge this coupon).  The coupon number is DSB329075 (please click the "apply" button for the discount to take effect).
A monthly subscription is also available (here).
The Food for Thought section is available as a separate newsletter. You can sign up here.
Please note that The Daily Shot is not an investment newsletter and is not intended for broad distribution.
If you have any questions, please contact Lev.Borodovsky@TheDailyShot.com.
Sincerely,
Lev Borodovsky
Editor, The Daily Shot
---