Greetings,
Administrative Update: Please note that The Daily Shot will not be published from Thursday, December 24 through Friday, January 1. However, in keeping with our annual tradition, we will send out a special edition of Food for Thought next week. As a reminder, scheduling updates are available online at https://thedailyshot.com/administrative-updates/
United States: Congress finally passed the $900 billion stimulus bill.
Below are the key components of the package …
• A one-time $600 payment to most Americans
• Extension of the Pandemic Unemployment Assistance and Pandemic Emergency Unemployment Compensation programs
• Extension of the $300 per week in additional unemployment benefits through mid-March
• $284 billion for the Paycheck Protection Program (PPP) and additional small business funding worth $35 billion
• Extension of the federal eviction moratorium through the end of January plus $25 billion for a rental assistance fund
• Up to $68 billion for vaccine distribution, vaccine administration (making it free), and COVID testing/contact tracing
• A $13 billion increase to SNAP (foods stamps, food banks, etc.)
• $10 billion for childcare assistance
• $10 billion for the USPS
• $45 billion for transportation: highways, airlines, transit systems
• $7 billion for broadband internet for students
• $82 billion for schools (K-12 and colleges)
• $13 billion for agriculture
… and some additional "features."
• Termination of unused Fed lending programs
• An attempt to end "surprise medical billing"
• Temporary tax cuts on beer, wine, and liquor
• And finally, the cost of meals becomes a deductible business expense.
Here is a rough breakdown of the planned expenditures.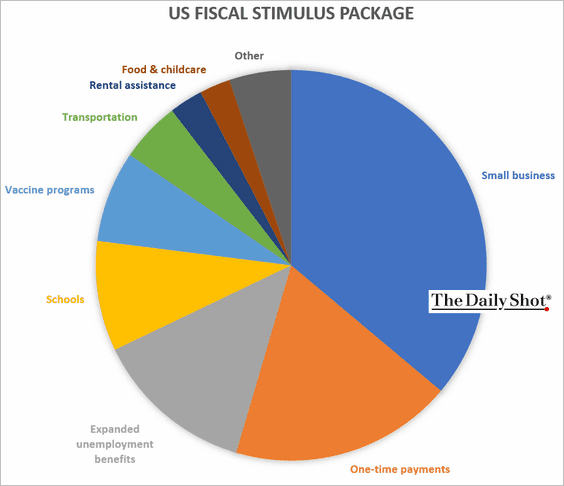 Eurozone: Italy and Spain are the largest beneficiaries of the €47.5 billion REACT-EU package (€37.5bn allocated in 2021 and €10bn in 2022.)
But other fiscal measures will be rolling off.
Asia-Pacific: South Korea's memory chip export prices are at a decade-low, pressuring manufacturers.
Emerging Markets:
Mexico's key fiscal risk in 2021 will be dealing with Pemex credit issues and its oil production targets (according to Barclays Research).
Reuters: – … a combination of declining output, crushing tax obligations and a hefty payroll burden have gradually weakened [Pemex], which is a major source of federal budget revenues.
Credit: Finally, here is an illustration of how CLOs cut off payments and delever when their portfolio CCC holdings exceed the maximum allowed amount (due to downgrades).
Food For Thought: Wrapping presents:
---
Edited by Devon Lall
Contact the Daily Shot Editor: Editor@DailyShotLetter.com
---
Dear Friends,
The full-length Daily Shot® is now an independent ad-free publication (see TheDailyShot.com). Here is a sample newsletter.
Daily Shot Brief subscribers are eligible to receive the full-length Daily Shot for $115/year (a $20 discount).
To subscribe with this discount, you must register here (NOTE: The regular subscription page will not acknowledge this coupon).  The coupon number is DSB329075 (please click the "apply" button for the discount to take effect).
A monthly subscription is also available (here).
The Food for Thought section is available as a separate newsletter. You can sign up here.
Please note that The Daily Shot is not an investment newsletter and is not intended for broad distribution.
If you have any questions, please contact Lev.Borodovsky@TheDailyShot.com.
Sincerely,
Lev Borodovsky
Editor, The Daily Shot
---