Greetings,
United States: For the first time in years, the Fed announced a new approach to inflation targeting. The central bank will now focus on price levels rather than the rate of change. Moreover, the Fed will put a higher emphasis on the health of the labor market.
The markets reacted by pushing longer-term Treasury yields higher in anticipation of rising inflation ahead.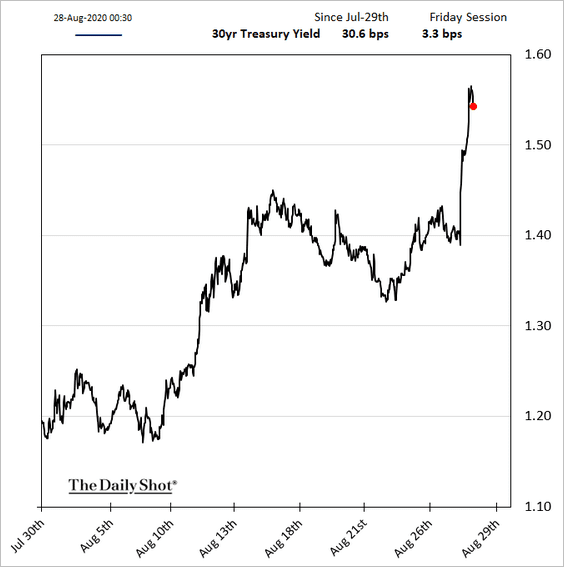 Given the Fed's new tools on inflation, the probability of the central bank taking rates below zero has diminished. The market-implied fed funds rate trajectory is now entirely in positive territory.
Eurozone: The euro-area broad money supply year-over-year growth exceeded 10% last month.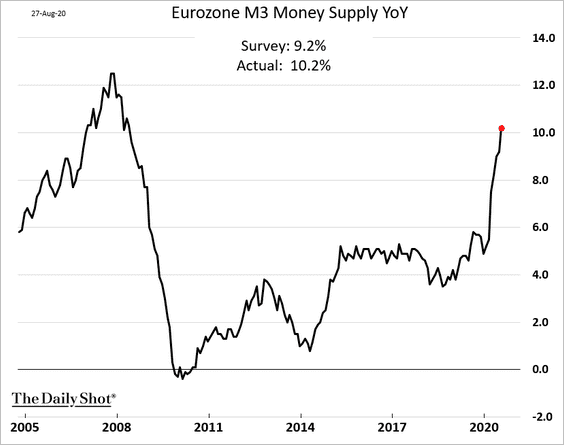 Household liquidity spiked. Will it translate into more spending?
China: The nation's business outlook continues to improve.
Commodities: Speculative bets on gold have moderated.
Equities: Will we see industrials begin to outperform as factory activity (ISM) rebounds?

Food For Thought: Who will get vaccinated?
---
Edited by Daniel Moskovits
Contact the Daily Shot Editor: Editor@DailyShotLetter.com
Dear Friends,
The full-length Daily Shot® is now an independent ad-free publication (see TheDailyShot.com). Here is a sample newsletter.
Daily Shot Brief subscribers are eligible to receive the full-length Daily Shot for $115/year (a $20 discount). To subscribe, please register here and use the coupon number DSB329075 (please click the "apply" button for the discount to take effect). A monthly subscription is also available (here).
The Food for Thought section is available as a separate newsletter. You can sign up here.
Please note that The Daily Shot is not an investment newsletter and is not intended for broad distribution.
If you have any questions, please contact Lev.Borodovsky@TheDailyShot.com.
Sincerely,
Lev Borodovsky
Editor, The Daily Shot