Greetings,
Administrative Updates
1. Please note that The Daily Shot, as well as the Daily Shot Brief, will not be published on Monday, September 7th.
2. Please contact Help@TheDailyShot.com for any technical or account-related issues/questions.
3. Administrative updates are published on our website here.
United States: Americans are moving into lower-density communities within their metro areas. Regional mortgage data provide the evidence for this trend (see comment below).
Eurozone: Hedge funds continue to boost their bets on the euro. When this crowded trade reverses, the selloff is going to be violent.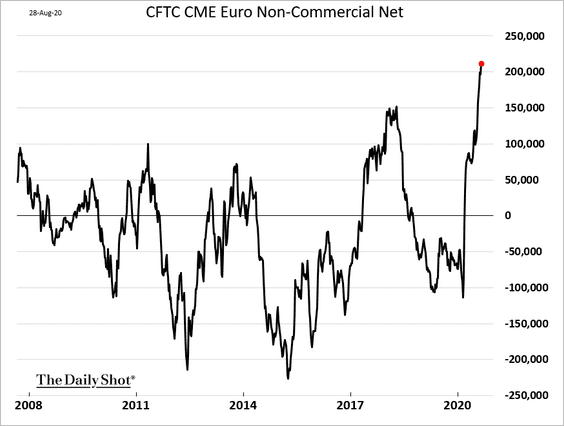 Emerging Markets: The Brazilian real popped last week.
Brazil's loan growth is accelerating.
Equities: The recent outperformance of growth vs. value has been remarkable.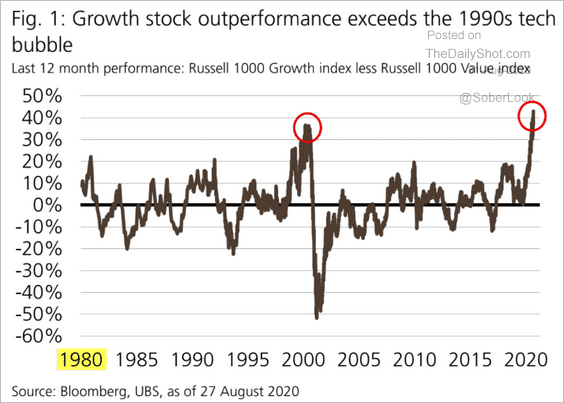 Global Developments: Hedge funds are pressing their bets against the US dollar.

Food For Thought: COVID cases at US universities:

---
Edited by Daniel Moskovits
Contact the Daily Shot Editor: Editor@DailyShotLetter.com
Dear Friends,
The full-length Daily Shot® is now an independent ad-free publication (see TheDailyShot.com). Here is a sample newsletter.
Daily Shot Brief subscribers are eligible to receive the full-length Daily Shot for $115/year (a $20 discount). To subscribe, please register here and use the coupon number DSB329075 (please click the "apply" button for the discount to take effect). A monthly subscription is also available (here).
The Food for Thought section is available as a separate newsletter. You can sign up here.
Please note that The Daily Shot is not an investment newsletter and is not intended for broad distribution.
If you have any questions, please contact Lev.Borodovsky@TheDailyShot.com.
Sincerely,
Lev Borodovsky
Editor, The Daily Shot