Greetings,
United States: The October CPI report showed a slowdown in price increases, with both the headline and the core inflation figures coming in below consensus.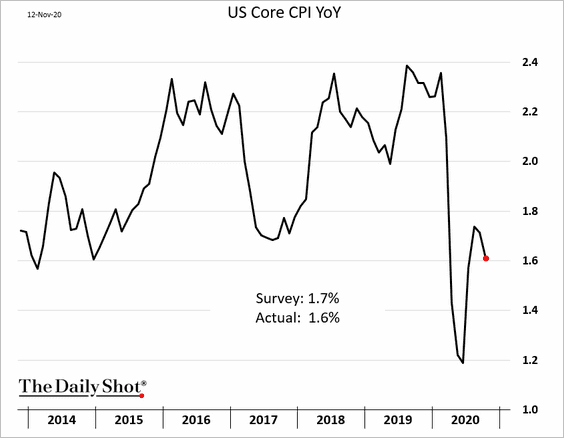 Zillow data point to more downside for rent inflation.
United Kingdom: The rebound in factory production is slowing.
China: Rates are rising across the board. Here are the 10yr and 5yr bond yields:
Energy: The EIA's (US Department of Energy) continues to downgrade its global petroleum liquids consumption forecasts.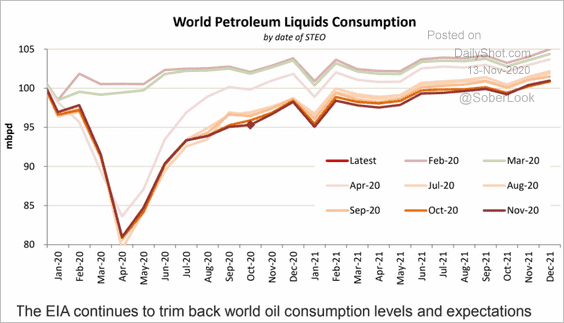 Equities: Companies known for share buybacks and dividend payouts (total cash return) have outperformed those focused on CapEx and R&D.
Food For Thought: How much refrigeration does Pfizer's vaccine require?
---
Edited by Daniel Moskovits
Contact the Daily Shot Editor: Editor@DailyShotLetter.com
---
Dear Friends,
The full-length Daily Shot® is now an independent ad-free publication (see TheDailyShot.com). Here is a sample newsletter.
Daily Shot Brief subscribers are eligible to receive the full-length Daily Shot for $115/year (a $20 discount).
To subscribe with this discount, you must register here (NOTE: The regular subscription page will not acknowledge this coupon).  The coupon number is DSB329075 (please click the "apply" button for the discount to take effect).
A monthly subscription is also available (here).
The Food for Thought section is available as a separate newsletter. You can sign up here.
Please note that The Daily Shot is not an investment newsletter and is not intended for broad distribution.
If you have any questions, please contact Lev.Borodovsky@TheDailyShot.com.
Sincerely,
Lev Borodovsky
Editor, The Daily Shot
---