Greetings,
United States: The U. Michigan Consumer Sentiment index surprised to the downside this month.
As we've seen earlier, presidential elections tend to have a substantial impact on US sentiment indicators. Republicans are more upbeat about the current situation (1st panel), while Democrats are more optimistic about the future (2nd panel). However, the expectations gains among Democrats weren't enough to offset the pessimism among Republicans, pulling the overall index lower.
United Kingdom: Asking prices for homes are now 6% above last year's levels.
China: The renminbi continues to climb.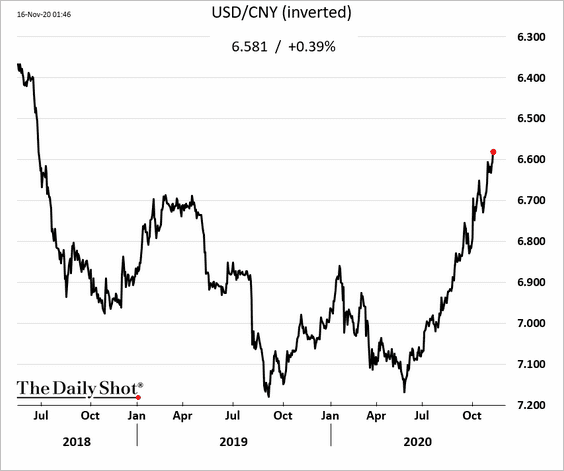 Goldman expects a secular rotation into CNY fixed income markets.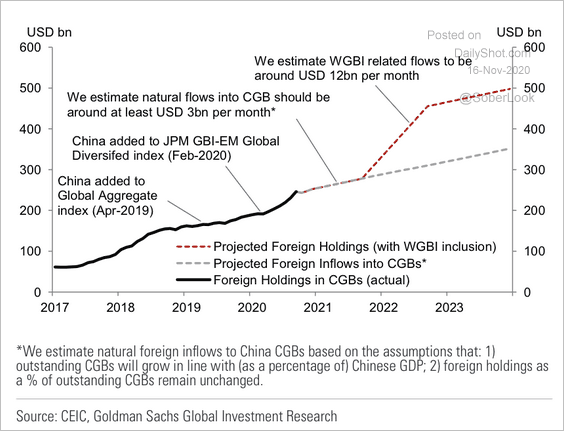 Equities: Value stocks are particularly sensitive to vaccine news.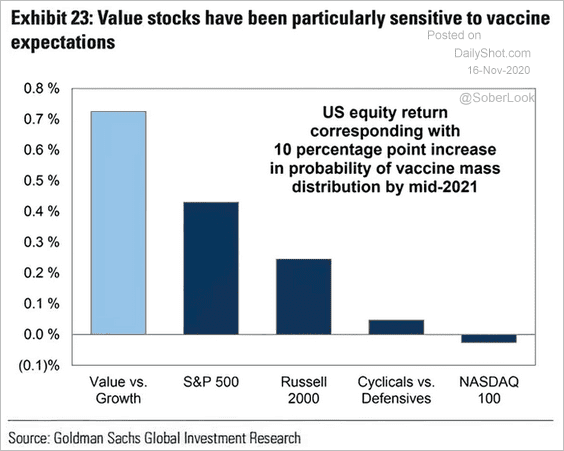 Global Developments: How much of the early-2020 losses have different asset classes recovered?
Food For Thought: Natural disasters:
---
Edited by Daniel Moskovits
Contact the Daily Shot Editor: Editor@DailyShotLetter.com
---
Dear Friends,
The full-length Daily Shot® is now an independent ad-free publication (see TheDailyShot.com). Here is a sample newsletter.
Daily Shot Brief subscribers are eligible to receive the full-length Daily Shot for $115/year (a $20 discount).
To subscribe with this discount, you must register here (NOTE: The regular subscription page will not acknowledge this coupon).  The coupon number is DSB329075 (please click the "apply" button for the discount to take effect).
A monthly subscription is also available (here).
The Food for Thought section is available as a separate newsletter. You can sign up here.
Please note that The Daily Shot is not an investment newsletter and is not intended for broad distribution.
If you have any questions, please contact Lev.Borodovsky@TheDailyShot.com.
Sincerely,
Lev Borodovsky
Editor, The Daily Shot
---