Greetings,
Administrative Update
On September 30th at 12:30 PM EST, Sandy Leeds will be conducting a webinar on the latest market trends and economic developments. This event is a collaboration between The Daily Shot and Texas Executive Education (University of Texas). Our subscribers can sign up here.
United States: Bloomberg's report shows that Americans are much more upbeat about personal finances than the state of the economy.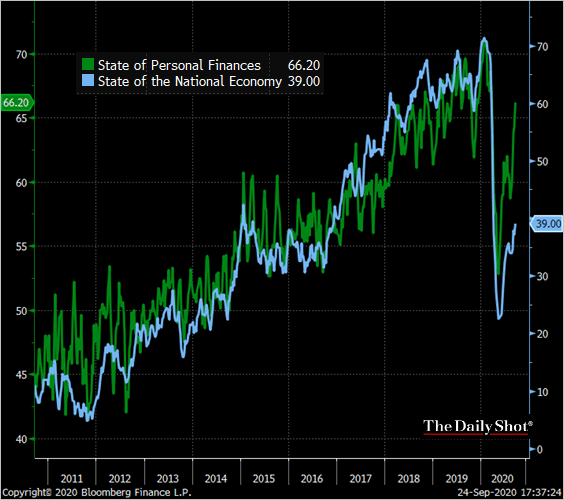 There is a divergence between retail sales and consumer confidence.
United Kingdom: Analysts are skeptical about the latest job support scheme from the government.
• While the new program is relatively inexpensive, …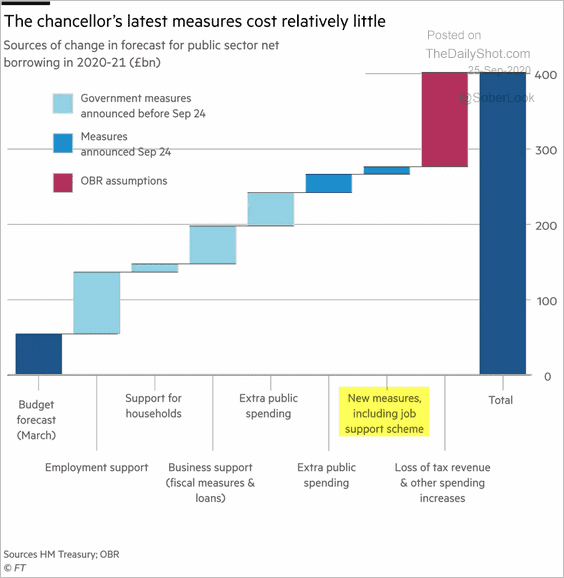 • … it relies on employers contributing to the scheme.
Why would companies pay part-time employees for hours they don't work when they can hire full-time workers?
Emerging Markets: Turkey's central bank surprised the markets with a massive rate hike to defend the lira.

The central bank has been spending a tremendous amount of F/X reserves to defend the currency, but it can't afford to do so for much longer as reserves dwindle (without boosting the lira). So it opted for a rate hike instead.
Credit: Commercial real estate mortgages that are 90+ days past due have been rising.
Many retail properties have been struggling, and some are never coming back.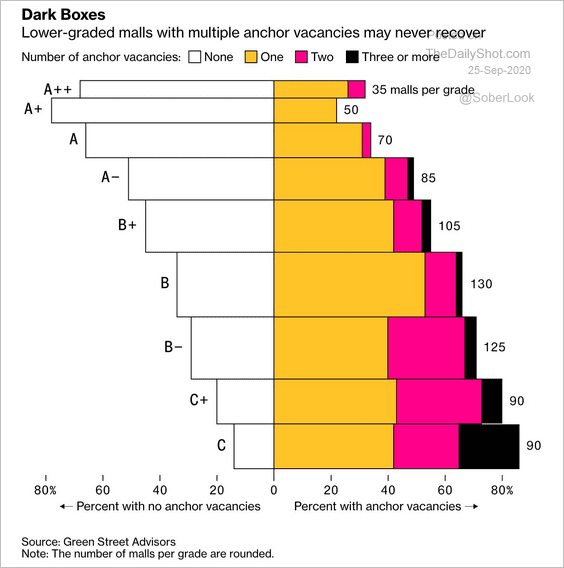 Rates: Recently, we've been getting conflicting messages from key Fed officials.
Food For Thought: Business loan fraud in the US: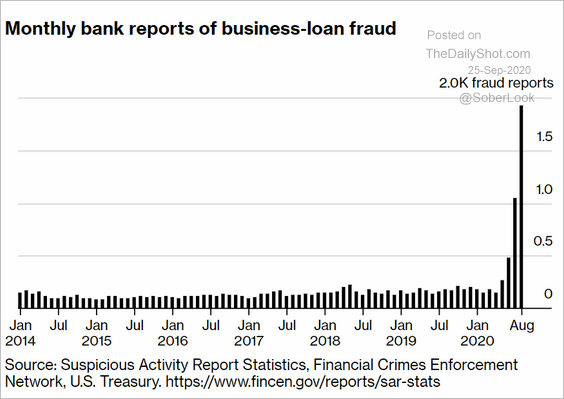 ---
Edited by Devon Lall
Contact the Daily Shot Editor: Editor@DailyShotLetter.com
---
Dear Friends,
The full-length Daily Shot® is now an independent ad-free publication (see TheDailyShot.com). Here is a sample newsletter.
Daily Shot Brief subscribers are eligible to receive the full-length Daily Shot for $115/year (a $20 discount).
To subscribe with this discount, you must register here (NOTE: The regular subscription page will not acknowledge this coupon).  The coupon number is DSB329075 (please click the "apply" button for the discount to take effect).
A monthly subscription is also available (here).
The Food for Thought section is available as a separate newsletter. You can sign up here.
Please note that The Daily Shot is not an investment newsletter and is not intended for broad distribution.
If you have any questions, please contact Lev.Borodovsky@TheDailyShot.com.
Sincerely,
Lev Borodovsky
Editor, The Daily Shot
---