Greetings,
United States: Credit and debit card spending in Pacific states is lagging the rest of the country.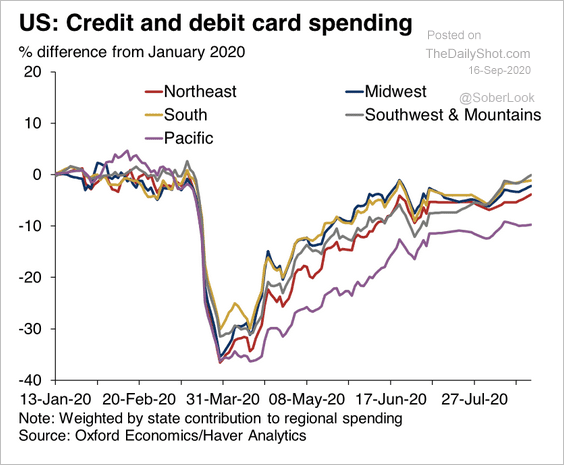 United Kingdom: Here is a quote from Macrobond on the UK's trade with the EU.
… we can see that Germany was the UK's biggest trading partner in terms of service exports, while France was the biggest in terms of service imports. More services were imported from Spain that exported to Spain during this period, something that stands out from most of the other trading partners to the UK.
Commodities: Cocoa futures were up sharply amid concerns about the black pod disease.
Equities: Stock futures liquidity has deteriorated.
Credit: Leveraged loan issuance has slowed this year.

Middle market loan volume has been particularly weak.
And banks have pulled back on lending to smaller firms.
Food For Thought: US federal government debt (% of GDP):
---
Edited by Devon Lall
Contact the Daily Shot Editor: Editor@DailyShotLetter.com
---
Dear Friends,
The full-length Daily Shot® is now an independent ad-free publication (see TheDailyShot.com). Here is a sample newsletter.
Daily Shot Brief subscribers are eligible to receive the full-length Daily Shot for $115/year (a $20 discount).
To subscribe with this discount, you must register here (NOTE: The regular subscription page will not acknowledge this coupon).  The coupon number is DSB329075 (please click the "apply" button for the discount to take effect).
A monthly subscription is also available (here).
The Food for Thought section is available as a separate newsletter. You can sign up here.
Please note that The Daily Shot is not an investment newsletter and is not intended for broad distribution.
If you have any questions, please contact Lev.Borodovsky@TheDailyShot.com.
Sincerely,
Lev Borodovsky
Editor, The Daily Shot
---