Greetings,
United States: The US fiscal 2020 budget gap hit $3 trillion. The trajectory going forward will depend on whether we see a CARES 2 package.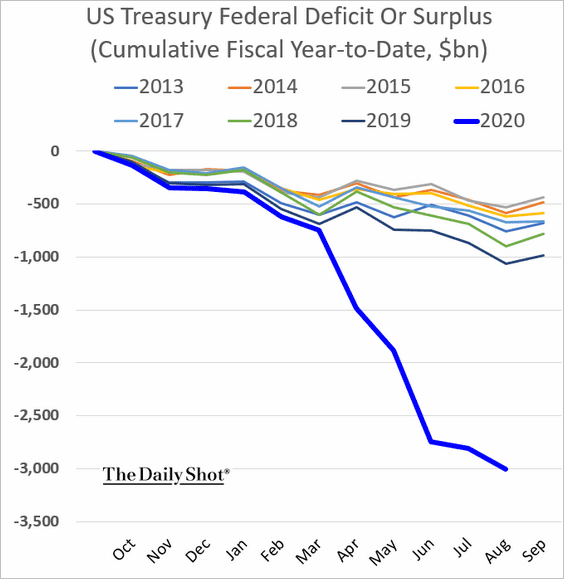 The good news is that the government's interest burden is expected to decline over the next few years, helped by extraordinarily low Treasury yields.
China: Bond yields continue to grind higher.
The 10yr spread between China and the US hit a multi-year high.
Energy: The Brent curve has been moving into contango, and floating storage activity is picking up again.
Equities: How significant was Softbank's options trading?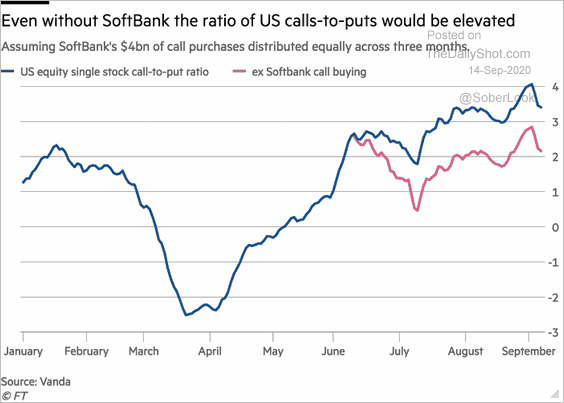 Credit: The global corporate debt market credit quality has been deteriorating over the past few decades.

Food For Thought: Apple vs. Android:
---
Edited by Daniel Moskovits
Contact the Daily Shot Editor: Editor@DailyShotLetter.com
---
Dear Friends,
The full-length Daily Shot® is now an independent ad-free publication (see TheDailyShot.com). Here is a sample newsletter.
Daily Shot Brief subscribers are eligible to receive the full-length Daily Shot for $115/year (a $20 discount). To subscribe, please register here and use the coupon number DSB329075 (please click the "apply" button for the discount to take effect). A monthly subscription is also available (here).
The Food for Thought section is available as a separate newsletter. You can sign up here.
Please note that The Daily Shot is not an investment newsletter and is not intended for broad distribution.
If you have any questions, please contact Lev.Borodovsky@TheDailyShot.com.
Sincerely,
Lev Borodovsky
Editor, The Daily Shot
---