Greetings,
United States: The latest weakness in the US dollar has been good for smaller US manufacturers by helping them compete on price. Smaller industrial firms have outperformed (the equal-weight stock index below gives smaller industrial firms more weight).
Since we are on the topic of currencies, the dollar-yen volatility market is pricing in a substantial US election risk (2-month – 1-month vol spread).
United Kingdom: The no-deal Brexit risk continues to rise.

The pound remains under pressure.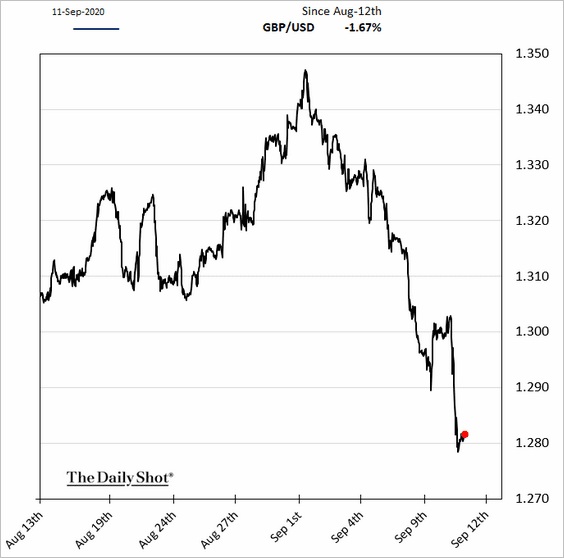 China: Investors are getting nervous about China's tech stocks.
Energy: This chart shows US crude oil and gasoline demand, measured in days of supply.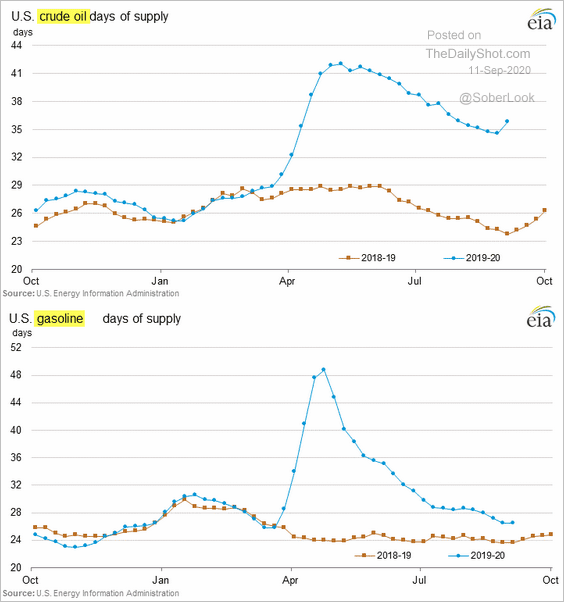 Equities: This chart shows momentum and relative strength of sectors versus the S&P 500.

Food For Thought: World Trade Center-related FDNY deaths by year: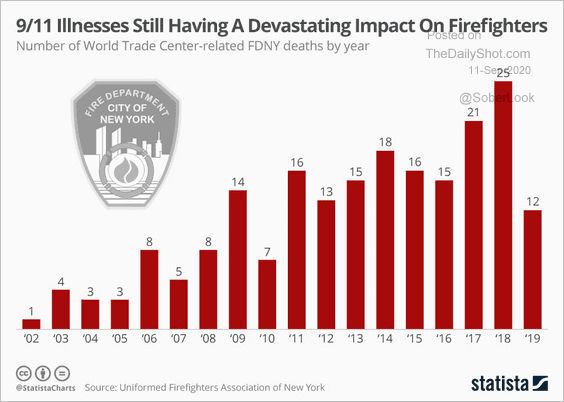 Today's edition of The Daily Shot Brief is dedicated to all the men and women who lost their lives on 9/11.
Have a great weekend.
---
Edited by Daniel Moskovits
Contact the Daily Shot Editor: Editor@DailyShotLetter.com
---
Dear Friends,
The full-length Daily Shot® is now an independent ad-free publication (see TheDailyShot.com). Here is a sample newsletter.
Daily Shot Brief subscribers are eligible to receive the full-length Daily Shot for $115/year (a $20 discount). To subscribe, please register here and use the coupon number DSB329075 (please click the "apply" button for the discount to take effect). A monthly subscription is also available (here).
The Food for Thought section is available as a separate newsletter. You can sign up here.
Please note that The Daily Shot is not an investment newsletter and is not intended for broad distribution.
If you have any questions, please contact Lev.Borodovsky@TheDailyShot.com.
Sincerely,
Lev Borodovsky
Editor, The Daily Shot
---