Greetings,
United States: The Indeed job postings indicator is still 19% below last year's level.
This scatterplot shows employment recovery vs. peak-to-trough employment loss by state.
According to Deutsche Bank, more than half of those on temporary layoff have been unemployed for 15 weeks or longer. Many of these temporary layoffs will be "converted" into permanent ones (see chart).
United Kingdom: Long-term market-based inflation expectations have risen sharply amid hard-Brexit concerns and a weaker pound.
Eurozone: Most economists expect the ECB to increase its emergency securities purchases (PEPP) by the end of the year.
Equities: Market concentration is following a similar path to the dot-com bubble..
Valuations remain lofty.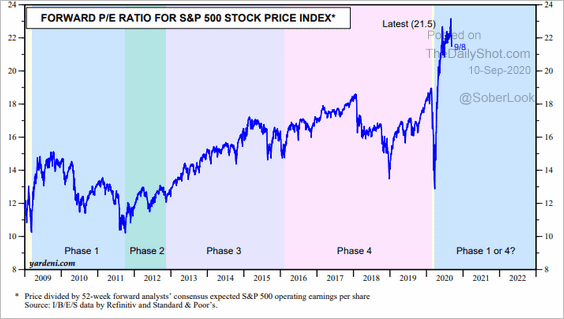 Global Developments: This chart shows the Citi Economic Surprise Index.

Food For Thought: Acres burned in California: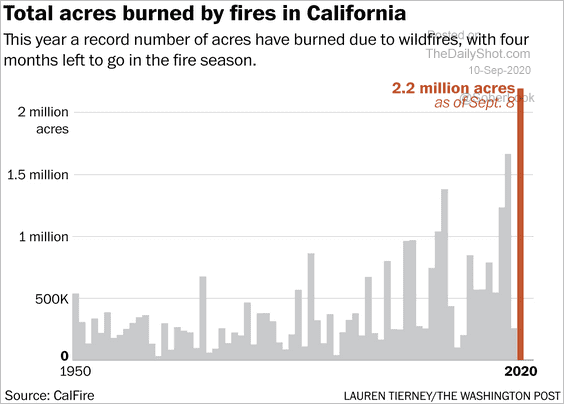 ---
Edited by Daniel Moskovits
Contact the Daily Shot Editor: Editor@DailyShotLetter.com
Dear Friends,
The full-length Daily Shot® is now an independent ad-free publication (see TheDailyShot.com). Here is a sample newsletter.
Daily Shot Brief subscribers are eligible to receive the full-length Daily Shot for $115/year (a $20 discount). To subscribe, please register here and use the coupon number DSB329075 (please click the "apply" button for the discount to take effect). A monthly subscription is also available (here).
The Food for Thought section is available as a separate newsletter. You can sign up here.
Please note that The Daily Shot is not an investment newsletter and is not intended for broad distribution.
If you have any questions, please contact Lev.Borodovsky@TheDailyShot.com.
Sincerely,
Lev Borodovsky
Editor, The Daily Shot