Greetings,
United States: Consumer inflation expectations have been overshooting the actual price gains.
Europe: Despite the SNB's efforts to keep the Swiss franc from appreciating, hedge funds continue to maintain net long positions.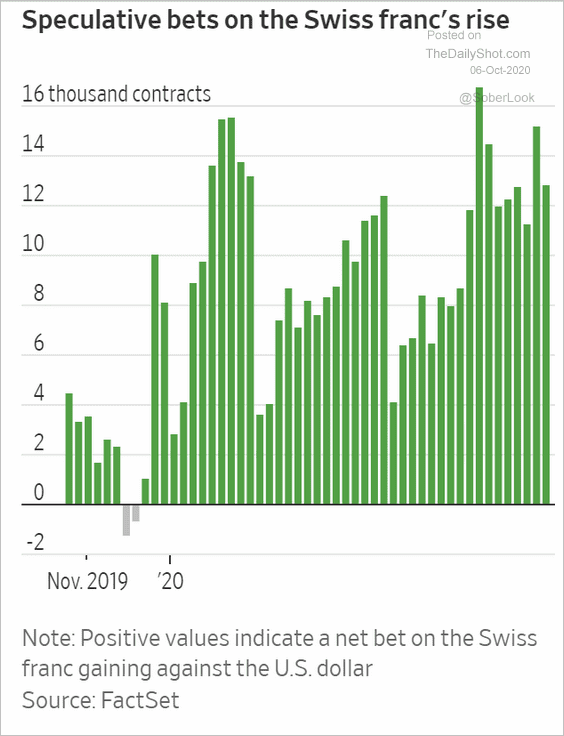 China: This chart shows US views on China (by political affiliation).
Energy: US electricity production is the lowest in years (for this time of the year).
Credit: Business loan balances have been declining as companies pay down their revolving credit lines.
Commercial paper outstanding continues to shrink.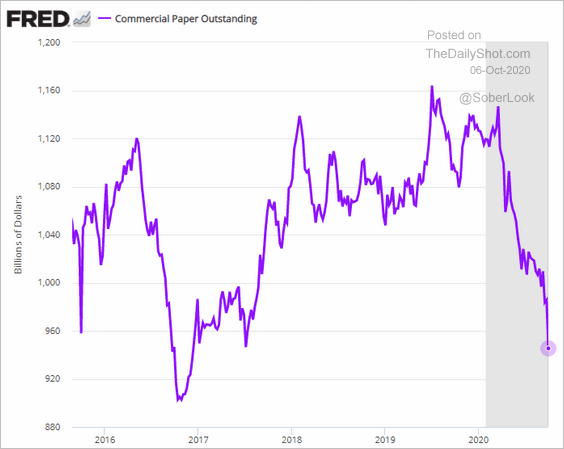 Food For Thought: Who will be attending a Halloween party this year?
---
Edited by Devon Lall
Contact the Daily Shot Editor: Editor@DailyShotLetter.com
---
Dear Friends,
The full-length Daily Shot® is now an independent ad-free publication (see TheDailyShot.com). Here is a sample newsletter.
Daily Shot Brief subscribers are eligible to receive the full-length Daily Shot for $115/year (a $20 discount).
To subscribe with this discount, you must register here (NOTE: The regular subscription page will not acknowledge this coupon).  The coupon number is DSB329075 (please click the "apply" button for the discount to take effect).
A monthly subscription is also available (here).
The Food for Thought section is available as a separate newsletter. You can sign up here.
Please note that The Daily Shot is not an investment newsletter and is not intended for broad distribution.
If you have any questions, please contact Lev.Borodovsky@TheDailyShot.com.
Sincerely,
Lev Borodovsky
Editor, The Daily Shot
---