Greetings,
China: Consumer inflation continues to moderate, with the September figures coming in below market expectations.
Slower food inflation, particularly pork, has been dragging the headline CPI lower. China has made progress in rebuilding its pig population while also boosting pork imports.
Eurozone: The rebound in industrial production stalled in August.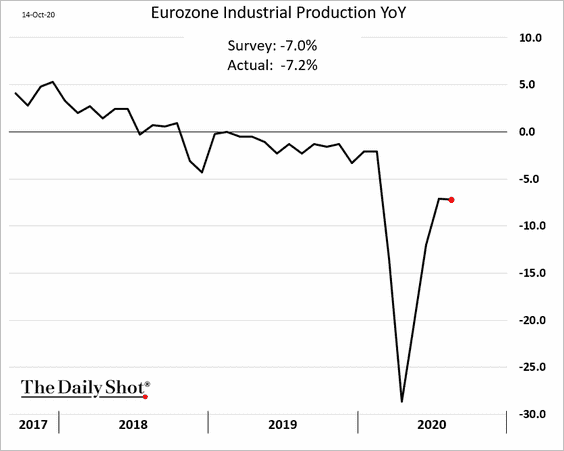 Gains have been uneven, with Germany underperforming.
United States: Market-based inflation expectations continue to signal higher consumer inflation ahead.
Energy: Goldman expects oil prices to climb next year (much more than is currently priced into the market).
Equities: Flows in and out of QQQ (Nasdaq 100 ETF) have been massive. Some suggests that these swings are due to dealers' enormous options exposure. QQQ, which is highly liquid, is sometimes used as a delta hedge against short portfolios of single-stock options.
Food For Thought: Common coronavirus conspiracy theories: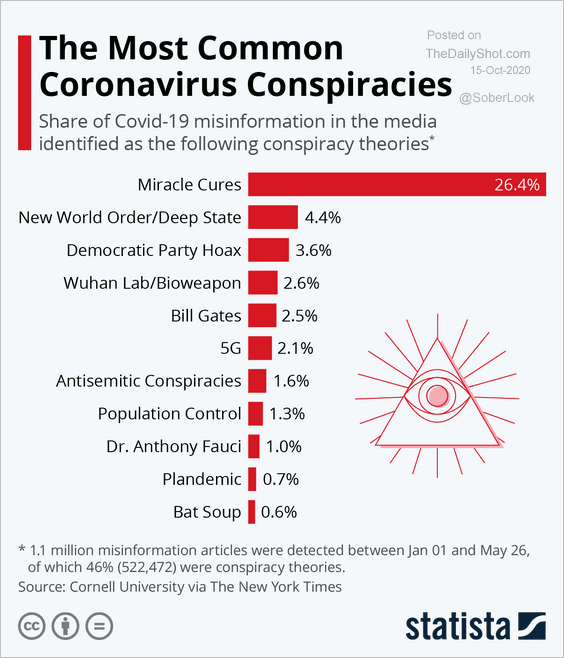 ---
Edited by Daniel Moskovits
Contact the Daily Shot Editor: Editor@DailyShotLetter.com
---
Dear Friends,
The full-length Daily Shot® is now an independent ad-free publication (see TheDailyShot.com). Here is a sample newsletter.
Daily Shot Brief subscribers are eligible to receive the full-length Daily Shot for $115/year (a $20 discount).
To subscribe with this discount, you must register here (NOTE: The regular subscription page will not acknowledge this coupon).  The coupon number is DSB329075 (please click the "apply" button for the discount to take effect).
A monthly subscription is also available (here).
The Food for Thought section is available as a separate newsletter. You can sign up here.
Please note that The Daily Shot is not an investment newsletter and is not intended for broad distribution.
If you have any questions, please contact Lev.Borodovsky@TheDailyShot.com.
Sincerely,
Lev Borodovsky
Editor, The Daily Shot
---