Greetings,
Equities: The market is pleased with Biden's electoral win and reduced uncertainty (for now). Stock futures are up sharply in early trading.
The collapse in vol (less uncertainty) has been supporting the post-election bounce, according to Deutsche Bank.
The put-call ratio declined last week.
Rates: The 10-year Treasury futures volume spiked in recent days.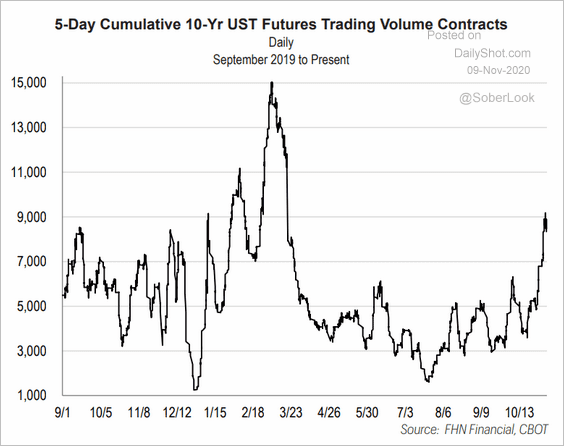 Emerging Markets: Tukey's finance minister, Murat Uysal (Erdogan's son-in-law), resigned. The market was happy with Uysal's resignation, sending the lira higher. Let's see how long that lasts.
United States: The US dollar continues to weaken. With the election uncertainty mostly behind us, rising risk appetite is pressuring the greenback.
Global Developments: Businesses curbed their economic growth expectations last month.
Food For Thought: The shift in voter margins (Republican vs. Democrat) from 2016, by education:
---
Edited by Daniel Moskovits
Contact the Daily Shot Editor: Editor@DailyShotLetter.com
---
Dear Friends,
The full-length Daily Shot® is now an independent ad-free publication (see TheDailyShot.com). Here is a sample newsletter.
Daily Shot Brief subscribers are eligible to receive the full-length Daily Shot for $115/year (a $20 discount).
To subscribe with this discount, you must register here (NOTE: The regular subscription page will not acknowledge this coupon).  The coupon number is DSB329075 (please click the "apply" button for the discount to take effect).
A monthly subscription is also available (here).
The Food for Thought section is available as a separate newsletter. You can sign up here.
Please note that The Daily Shot is not an investment newsletter and is not intended for broad distribution.
If you have any questions, please contact Lev.Borodovsky@TheDailyShot.com.
Sincerely,
Lev Borodovsky
Editor, The Daily Shot
---