Greetings,
Administrative Update
Please note that The Daily Shot will not be published on Thursday, Nov. 26th and Friday, Nov. 27th.
Equities: Stock futures are higher as Biden's formal transition begins. Investors also breathed a sigh of relief on Yellen's nomination for the Treasury Secretary (as opposed to Elizabeth Warren, for example).
Credit: Merrill Lynch private clients' allocation to debt hit a new low.
Rates: Fed officials seem to favor increasing the share of longer-dated Treasuries as part of QE. Will it be enough to keep the curve from steepening?
Energy: The front end of the Brent curve is in backwardation.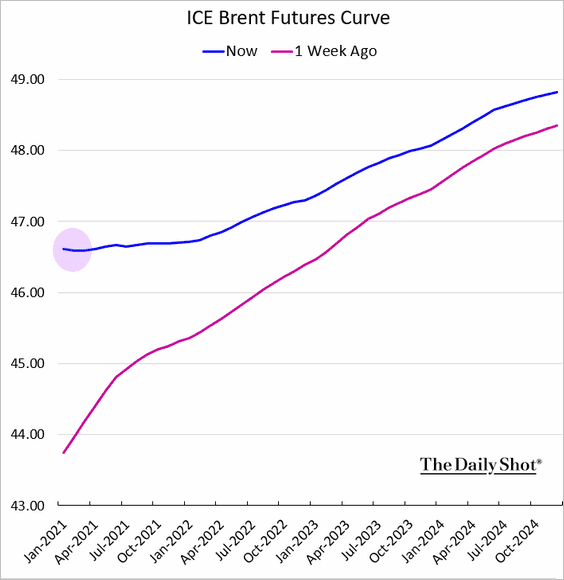 Emerging Markets: Analysts continue to upgrade EM corporate earnings forecasts.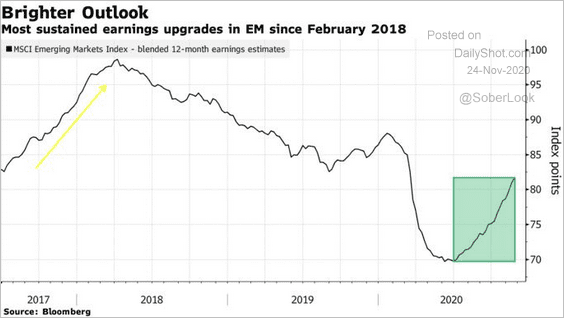 Food For Thought: Are US consumers spending more or less this holiday season?
How much of the holiday shopping have US consumers completed?
---
Edited by Devon Lall
Contact the Daily Shot Editor: Editor@DailyShotLetter.com
---
Dear Friends,
The full-length Daily Shot® is now an independent ad-free publication (see TheDailyShot.com). Here is a sample newsletter.
Daily Shot Brief subscribers are eligible to receive the full-length Daily Shot for $115/year (a $20 discount).
To subscribe with this discount, you must register here (NOTE: The regular subscription page will not acknowledge this coupon).  The coupon number is DSB329075 (please click the "apply" button for the discount to take effect).
A monthly subscription is also available (here).
The Food for Thought section is available as a separate newsletter. You can sign up here.
Please note that The Daily Shot is not an investment newsletter and is not intended for broad distribution.
If you have any questions, please contact Lev.Borodovsky@TheDailyShot.com.
Sincerely,
Lev Borodovsky
Editor, The Daily Shot
---