Dear Friends,
The full-length Daily Shot® is now an independent ad-free publication (see TheDailyShot.com). Here is a sample newsletter.
Daily Shot Brief subscribers are eligible to receive the full-length Daily Shot for $115/year (a $20 discount). To subscribe, please register here and use the coupon number DSB329075 (please click the "apply" button for the discount to take effect). A monthly subscription is also available (here).
The Food for Thought section is available as a separate newsletter. You can sign up here.
If you are a Wall Street Journal subscriber, please see the announcement here.
Please note that The Daily Shot is not an investment newsletter and is not intended for broad distribution.
If you have any questions, please contact Lev.Borodovsky@TheDailyShot.com.
Sincerely,
Lev Borodovsky
Editor, The Daily Shot
---
Greetings,
United States: Selling prices of homes have failed to keep pace with list prices.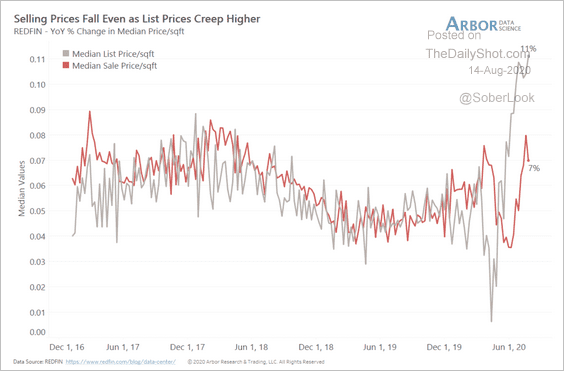 Commodities: Only 35% of commodities are producing year-over-year gains at the moment.
Credit: Private-equity-backed high-yield bond issuance has been robust.
More Chapter 11 filings ahead?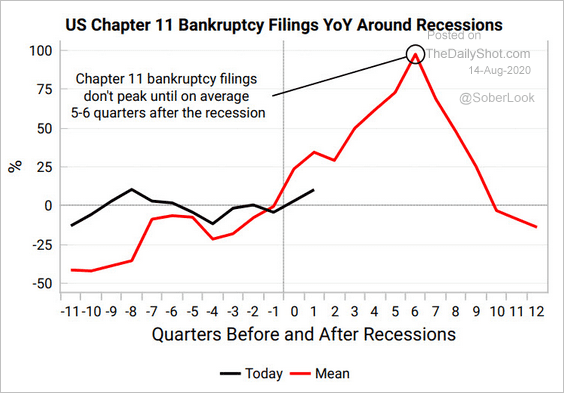 Rates: This chart shows the divergence between Treasury yields and inflation expectations. The widening gap has pushed real yields deep into negative territory.
Global Developments: This chart shows the performance of various asset classes and investment factors during prior periods of dollar weakness.
Food For Thought: US public school employment:
---
Edited by Devon Lall
Contact the Daily Shot Editor: Editor@DailyShotLetter.com
Subscribe to the Daily Shot Brief