Dear Friends,
The full-length Daily Shot® is now an independent ad-free publication (see TheDailyShot.com). Here is a sample newsletter.
Daily Shot Brief subscribers are eligible to receive the full-length Daily Shot for $115/year (a $20 discount). To subscribe, please register here and use the coupon number DSB329075 (please click the "apply" button for the discount to take effect). A monthly subscription is also available (here).
The Food for Thought section is available as a separate newsletter. You can sign up here.
If you are a Wall Street Journal subscriber, please see the announcement here.
Please note that The Daily Shot is not an investment newsletter and is not intended for broad distribution.
If you have any questions, please contact Lev.Borodovsky@TheDailyShot.com.
Sincerely,
Lev Borodovsky
Editor, The Daily Shot
---
Greetings,
United States: Longer-term market-based inflation expectations continue to grind higher (2 charts).
United Kingdom: As we saw yesterday, the Q2 GDP decline exceeded 20%. Here is a comparison to other economies.
The contraction would have been worse if it wasn't for the relative strength in UK exports. The decline was almost half of what economists were expecting.
Energy: This chart shows US inventories of crude oil and gasoline, measured in days of supply.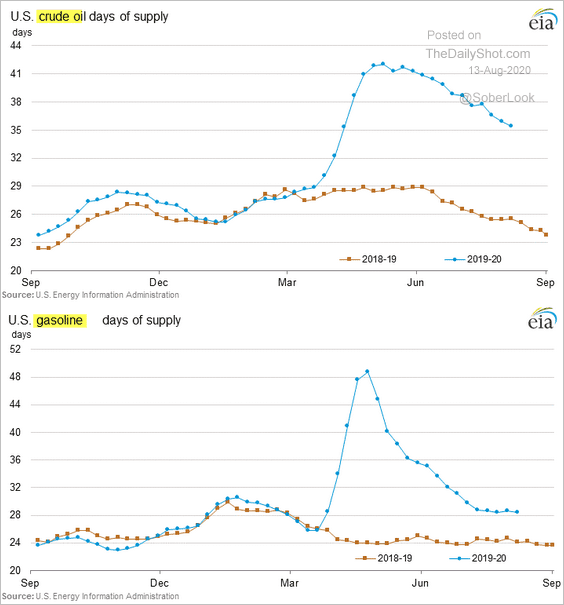 Equities: The average holding period for stocks has declined sharply over the past few decades.
Global Developments: Next, we have ETF flows by asset class.
Food For Thought: The pandemic's impact on major corporations: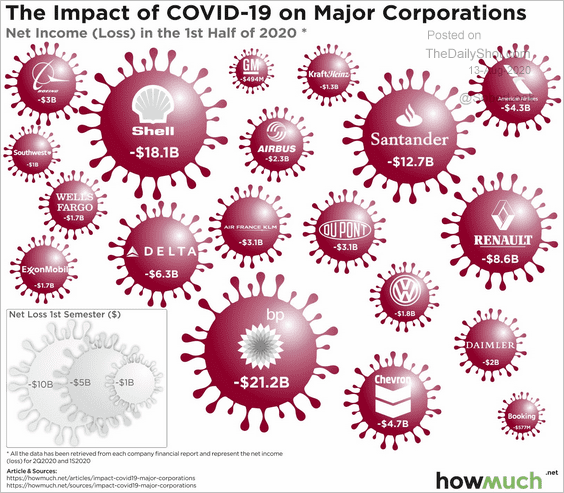 ---
Edited by Daniel Moskovits
Contact the Daily Shot Editor: Editor@DailyShotLetter.com
Subscribe to the Daily Shot Brief