Dear Friends,
The full-length Daily Shot® is now an independent ad-free publication (see TheDailyShot.com). Here is a sample newsletter.
Daily Shot Brief subscribers are eligible to receive the full-length Daily Shot for $115/year (a $20 discount). To subscribe, please register here and use the coupon number DSB329075 (please click the "apply" button for the discount to take effect). A monthly subscription is also available (here).
The Food for Thought section is available as a separate newsletter. You can sign up here.
If you are a Wall Street Journal subscriber, please see the announcement here.
Please note that The Daily Shot is not an investment newsletter and is not intended for broad distribution.
If you have any questions, please contact Lev.Borodovsky@TheDailyShot.com.
Sincerely,
Lev Borodovsky
Editor, The Daily Shot
---
Greetings,
United States: With pandemic aid on hold, economists are concerned about the looming income cliff.
Missed rent and mortgage payments continued into August.
Eurozone: Some Eurozone banks have substantial exposure to Turkey.
Equities: US equities tend to struggle three months prior to a presidential election.
Rates: Foreigners tend to boost their Treasury holdings when the dollar weakens.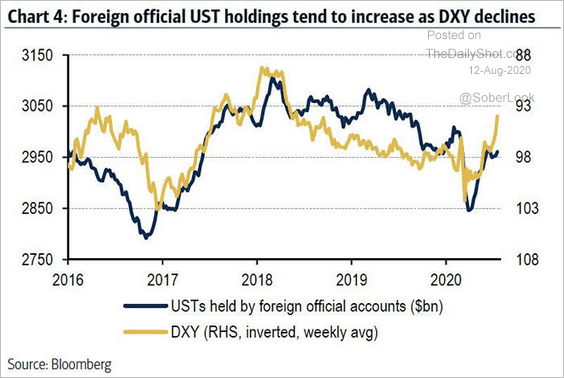 Also, here is Deutsche bank's forecast for the Fed's balance sheet.
Global Developments: Finally, this chart shows global equity ETF flows.
Food For Thought: Sales of hard seltzer: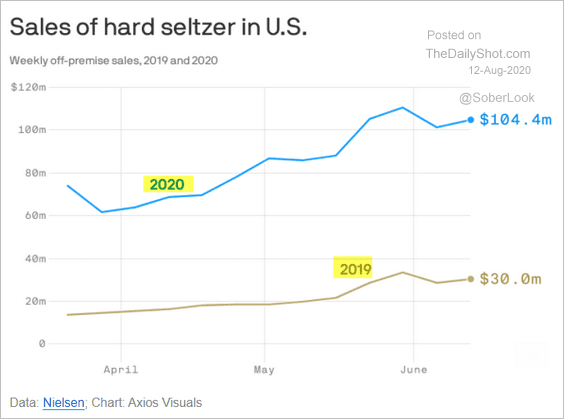 ---
Edited by Devon Lall
Contact the Daily Shot Editor: Editor@DailyShotLetter.com
Subscribe to the Daily Shot Brief